"Positive about South Africa"
Slovo and his little brother Siphelele – how everything started!
It was a sunny Monday morning in June 2000. I have just relocated to Cape Town and was busy unpacking all the moving boxes, when I heard a loud knock on my door. Here she was, the proud, big and beautiful Xhosa lady, asking for work: FRANCIS.
In the middle of my relocation disaster this angel appeared. She was exactly the person we were looking for.
Francis and her two little boys lived in the Township Khayelitsha, just outside Cape Town. Their "house" was a shack with 16qm and on rainy days the nearby river was flowing through their small living room. That was the only running water they had in their home.
Soon Francis was more than "just" our employee, she and her family touched our hearts and we became close friends. Francis took us and our guests on township tours, in her gorgeous Xhosa-dress she showed us her friends' "houses", she introduced us to Mike, the owner of the local "Shabeen" and gave us maize beer to taste. Her neighbours welcomed us with traditional songs and dances and we got to know "their Africa". We learned that poverty is not the equivalent to unhappiness and that real laughter comes from the heart. For Francis and her friends wealth means to have a job, friends, respect and a little bit of money to feed the family and send the kids to school.
Francis died of cancer on Saturday, 22. July 2006.
So, there were the two motherless kids: Slovo und Siphelele.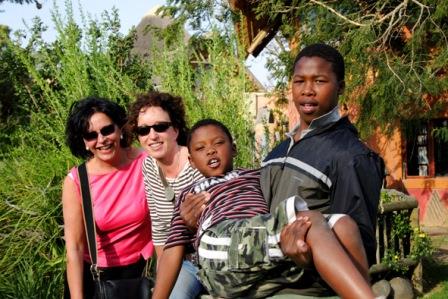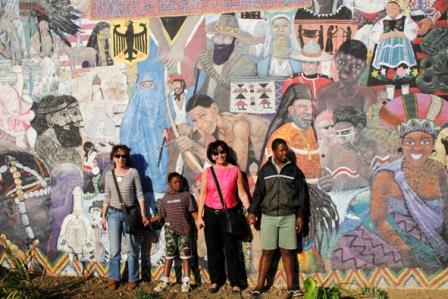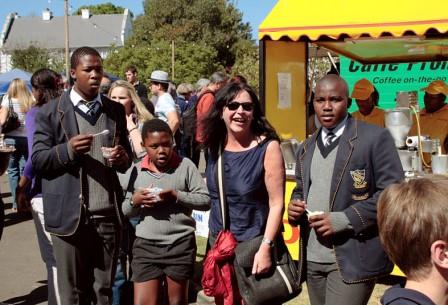 Francis and her kids have always felt like family to us, and it is for this reason that we couldn't let the children continue their path to nowhere, with no guidance. Without a mother to look after them, they would have been lost to the townships, living a life of abject poverty like so many other South African children. But it is because of the generosity of all our friends and donors that these two boys have been given a ray of hope for a good future.
It was difficult for them to adapt to their new lives and studying at the best Private Schools of South Africa has been challenging but also filled with triumphs. Both are brimming with talent and potential and once again we would like to thank everyone who helped us to realize their dreams.
Both Slovo and Siphelele graduated years ago but like many young adults they have difficulties with finding their right place in life.
Slovo is a very talented and passionate opera singer and - with the help of uncountable private lessons - managed to be accepted at the University of Cape Town. He needed another 4 years to finally find himself and to realize what really counts in life. Since he was 12 years old, all he wanted to do was sing. Now he reached his goal: the manager of the Opera in Cape Town never lost faith in him and gave him the opportunity to go to Italy. We are so glad that - although it was a very rocky and challenging path - he eventually found his place in life and all our effort was worth it! We would like to say THANK YOU to everyone who supported us and believed in him.
Siphelele is now already 20 years old and is currently studying Hotel Management at the SWISS Hotel School in Johannesburg. He is a passionate chef (and he also likes to eat!) and he loves his studies and his part time job at a Restaurant. Maybe he will soon be a well-known hotel manager overseas? To reach this goal he will have to study and work hard for the next 2 years! For now, he is planning on doing an Internship in the United States which is going to be a big step for him!
Once again, we would like to say THANK YOU! We are blessed to have so many lovely friends and donors to help Siphe make his dream come true!